Aaron Crane: Paintings Come Alive
Find Aaron's missing father and discover the meaning behind his eerie paintings in Aaron Crane: Paintings Come Alive! Aaron's father paints spooky images from his subconscious and no one seems to know what they mean. Suddenly, he disappears and it's up to Aaron to track him down! Finding an address on one of the paintings, Aaron has found his first clue and must now go on an amazing adventure in this incredible Hidden Object Puzzle Adventure game.
Explore eerie paintings
Scour gorgeous locations
Find Aaron's missing father!
Mystery Case Files®: Escape from Ravenhearst
You lived through their side of the story—now live through his!Return once more to the haunted grounds of Ravenhearst Manor to uncover new details about this poignant saga. What you find could very well be the final chapter of this riveting story—if you escape.This is an intense psychological thriller that may reveal deep-seated fears. Not for the young or faint of heart. Consider yourself warned. Please note: This is the biggest and most intense offering from the Big Fish Games Studios to date. If you are not sure if your computer will be able to handle the game, please try it before you buy it!
Experience Charles' story
Escape from Ravenhearst!
For a more in-depth experience, check out the Collector's Edition!
Get the Strategy Guide!
Check out our Blog Walkthrough
Three Musketeers Secret: Constance's Mission
Experience the classic tale of the Three Musketeers from Constance's eyes as she works as a secret agent for the queen in Three Musketeers Secrets: Constance's Mission! Help Constance as she not only inspires Gascony with her love, but takes on danger and saves the lives of the queen and D'Artagnan. Explore gorgeous scenes and live through an incredible tale in Three Musketeers Secrets: Constance's Mission!
Protect the queen
Help the Three Musketeers
Discover Constance's secret!
iPhone/iPad/Android Games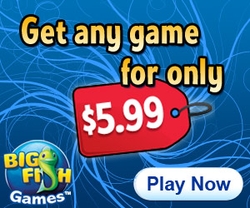 Recommended Sites