Mirrors & Reflections Puzzles by

Frozax Games
In this logic puzzle game, place mirrors to direct the lasers to the proper exit!
Guess the orientation of the mirrors with logic only. No random moves.
Can you solve the 1040 levels of increasing difficulty?
Features:
1040 levels for beginners and experts
Free unlimited use of hints when you are stuck
Collect a star in each level
The game is available in English, French, Italian, German, Spanish, Brasilian/Portugese, Dutch, Russian, Chinese, Japanese and Korean.
Ashley Clark: Secret of the Ruby
Detective Ashley Clark is puzzled by a series of mysterious kidnappings. The only connection between these unusual disappearances is a brilliant, red ruby pendant. Could someone be using this sparkling ornament to send a clandestine message, or could this be the handiwork of an underground cult? Follow the clues to discover the ancient secrets held by the ruby pendant, and uncover the truth behind the bizarre kidnappings! Highly interactive storyline and gameplay Exciting mini-games Intriguing plot with twists and turns Wide range of difficulty levels
Vacation Adventures: Park Ranger
Spend an exciting and adventurous summer working as a Park Ranger in a stunning National Park. Visit log cabins and areas of outstanding natural beauty such as lakes, woodland trails and mountain vistas. Set up outdoor activities like boating, rock climbing, horse riding, mountain biking and much much more. Perform your duties as a Park Ranger and protect the environment by collecting all the bonus trash items to recycle. Earn even more bonuses for finding all the Lost & Found items scattered around the Park. Enjoy this outstanding collection of Hidden Object Scenes and puzzles set in the great outdoors. Stunning scenes of natural beauty. Fabulous hidden object scenes and challenges. Spend a Summer Vacation as a Park Ranger!
iPhone/iPad/Android Games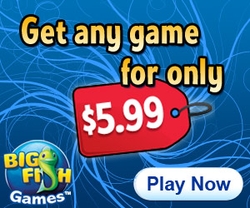 Recommended Sites