Mirrors & Reflections Puzzles by

Frozax Games
In this logic puzzle game, place mirrors to direct the lasers to the proper exit!
Guess the orientation of the mirrors with logic only. No random moves.
Can you solve the 1040 levels of increasing difficulty?
Features:
1040 levels for beginners and experts
Free unlimited use of hints when you are stuck
Collect a star in each level
The game is available in English, French, Italian, German, Spanish, Brasilian/Portugese, Dutch, Russian, Chinese, Japanese and Korean.
Castle: Never Judge a Book by Its Cover
The dynamic duo of Richard Castle and Kate Beckett are at it again and they need your help. You will be tasked with tracking down a killer responsible for killing innocent victims that are oddly connected. However, this isn't any ordinary killer. The crime scenes are unique and dynamic, and designed to lead you off course. With each crime, things begin to hit closer to home. Eventually an eerie pattern becomes clear during the investigation. Will you be able to find the killer before there is another victim? Spot items and places from the TV show! Fantastic interactive HOG scenes will keep you engaged Engaging storyline written with the creators of the show!
Mystery Trackers: The Four Aces
Stop a devious conspiracy in Mystery Trackers: Four Aces! The entire town of Brightfield was evacuated after a series of bizarre animal attacks. Now, strange creatures roam the streets, danger lurks around every corner and youve just landed smack in the middle of it all. As you begin to investigate, you discover that the attacks may have been part of a whole series of crimes committed in town, all tracing back to an organization called the Four Aces. But just who are the Aces and what is their plan? With the help of your trusty canine companion, Elf, you must keep digging to get to the bottom of things. Good luck out there, Detective. Youre going to need it! Check out our Blog Walkthrough Get the Strategy Guide! For a more in depth experience, check out the Collector's Edition
iPhone/iPad/Android Games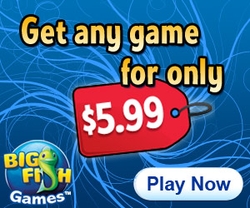 Recommended Sites