Mirrors & Reflections Puzzles by

Frozax Games
In this logic puzzle game, place mirrors to direct the lasers to the proper exit!
Guess the orientation of the mirrors with logic only. No random moves.
Can you solve the 1040 levels of increasing difficulty?
Features:
1040 levels for beginners and experts
Free unlimited use of hints when you are stuck
Collect a star in each level
The game is available in English, French, Italian, German, Spanish, Brasilian/Portugese, Dutch, Russian, Chinese, Japanese and Korean.
European Mystery: Scent of Desire
Stop a maniac's murderous trail of fragrance and deception in European Mystery: Scent of Desire! You've barely settled into your retirement in the peaceful French countryside, when you receive an urgent request from Paris. Young women are disappearing in broad daylight, the authorities are baffled, and the person responsible is still on the loose! How could any able-bodied detective refuse such a case? Stay on scent of the murderer in this intriguing Hidden-Object Puzzle Adventure game. Check out our Blog Walkthrough Get the Strategy Guide! For a more in depth experience, check out the Collector's Edition
Calavera: Day of the Dead
She said yes! Alan was finally going to marry his sweetheart, Catalina. She only had one small request before the wedding, to ask for her father's blessing. The young couple travels to the small town in Mexico where her father is from, arriving just in time for the annual Day of the Dead celebration. But when he doesn't meet them at the train station, that's only the beginning of their problems. Is it just the heat, or did that book talk to you? And that guy is definitely wearing a skeleton mask, right? Cross the border between life and death in this festive Hidden Object Puzzle Adventure game. Get the Strategy Guide! Check out our Blog Walkthrough For a more in depth experience, check out the Collector's Edition
iPhone/iPad/Android Games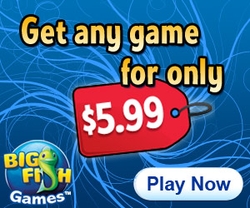 Recommended Sites