Mirrors & Reflections Puzzles by

Frozax Games
In this logic puzzle game, place mirrors to direct the lasers to the proper exit!
Guess the orientation of the mirrors with logic only. No random moves.
Can you solve the 1040 levels of increasing difficulty?
Features:
1040 levels for beginners and experts
Free unlimited use of hints when you are stuck
Collect a star in each level
The game is available in English, French, Italian, German, Spanish, Brasilian/Portugese, Dutch, Russian, Chinese, Japanese and Korean.
House of 1000 Doors: Serpent Flame
Return to the House of 1,000 Doors to save mankind from annihilation! Giant snakes have burst out of the Earth and are wreaking destruction across every continent. Your mission: travel back in time to four different epochs to gather the elements needed to activate a machine that can destroy the ancient beasts! Get the Strategy Guide! Check out our Blog Walkthrough For a more in depth experience, check out the Collector's Edition
Finders
Carve a path through an unforgiving wilderness to rescue a hero trapped by a villain! As you balance time and resources, you'll also invent clever machines to accomplish special tasks, make friends with a Yeti, and prepare for the impending showdown against your enemy. Finders will provide hours of unforgettable fun! Step-by-step tutorial Gripping storyline 100 quests!
iPhone/iPad/Android Games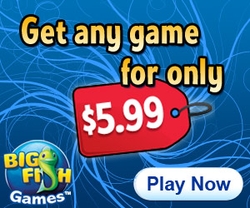 Recommended Sites