Mirrors & Reflections Puzzles by

Frozax Games
In this logic puzzle game, place mirrors to direct the lasers to the proper exit!
Guess the orientation of the mirrors with logic only. No random moves.
Can you solve the 760 levels of increasing difficulty?
Features:
760 levels for beginners and experts
Free unlimited use of hints when you are stuck
Collect a star in each level
The game is available in English, French, Italian, German, Spanish, Brasilian/Portugese, Dutch, Russian, Chinese, Japanese and Korean.
Gardenscapes 2
Gardenscapes 2 takes the unique experience of the original Gardenscapes to a completely new level! The garden at the estate where Austin was born and grew up in is in a pitiful state. Rundown and neglected, it is waiting for you to come and restore it! Accompany Austin to the place of his childhood, meet his parents, and collect the old photos and other memorable things from his past. Run sales of the old stuff found around the house to implement the original decor ideas of your own! Help your good old friend bring the family garden to bloom again in this brand new hit from Playrix! 80+ HO levels 60 outdoor decor items! Customizable 3D characters! Complete a family photo album Play Gardenscapes
Magic Cauldron Chaos
Lisa is an inventive witch, highly skilled in the art of crafting potions. One day, however, one of her potions goes awry and opens a rift that drops her in another world. This strange world is made up of floating islands inhabited by peaceful gnomes and thieving imps. Only the gnomes know how to get Lisa back home to her own world. But first, she must help them defeat the imps who have been stealing all of their magic potion ingredients. By constructing resource buildings and matching potion ingredients, Lisa can clear the way across the five islands for the gnomes to gather the artifacts that will open the portal home. Construct various buildings to produce potion ingredients. Guide the gnomes to match ingredients to make potions. Purchase dozens of upgrades to create more valuable potions.
iPhone/iPad/Android Games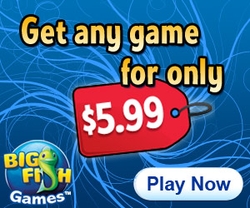 Recommended Sites