City of Secrets
After he falls down a hole in your basement, you must Save Rex from a City of Secrets in this incredible Adventure game! Not only has Rex found a city of mole-people, but he's also been charged with espionage! Find useful items that you'll use as you solve puzzles and try to free Rex before it's too late! Scour gorgeous levels and save your best friend before he's convicted of a crime he didn't commit in City of Secrets!
Explore a city of mole-people
Go on an underground adventure
Save Rex from a City of Secrets!
Haunted Manor: Lord of Mirrors
Help Stan Riddle escape the Haunted Manor! After being trapped by the Lord of Mirrors, Stan needs you to guide him to safety! Use your Hidden Object skills to find valuable items and piece together perplexing puzzles. Discover why a beautiful mansion has been abandoned and what caused the owner to disappear. Come up with a clever escape plan to reach your friends in Haunted Manor – Lord of Mirrors!
Tricky puzzles
Escape the Haunted Manor!
For a more in depth experience, check out the Collector's Edition
Check out our Blog Walkthrough
Get the Strategy Guide!
Roads of Rome III
Stop the invading barbarian forces and restore the settlements and broken roads in Roads of Rome 3, a fun Strategy game! Julia and Victorius are absolutely happy awaiting the birth of their first child. However, one day a messenger arrives in Rome spreading the bad news about Barbarians that are destroying the Roman provinces. Help Victorius and his army resist the enemy and protect Rome from the forthcoming disaster!
Fantastic gameplay
Exciting action
Restore the settlements!
iPhone/iPad/Android Games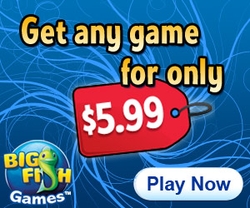 Recommended Sites