Dark Parables: The Exiled Prince
Many centuries ago, a princess kissed a frog and transformed him into a handsome prince. Unlike the fable, they never ended happily ever after. It is rumored that the Frog Prince is still alive and now roams the deserted path in the Black Forest, capturing unsuspecting visitors. When the chancellor's daughter goes missing, you are sent to investigate her disappearance. Journey through the deserted forest in Dark Parables – The Exiled Prince, an eerie Hidden Object Adventure game!
Immersive atmosphere
Get the Strategy Guide!
Check out our Blog Walkthrough
Play Dark Parables: Curse of Briar Rose Collector's Edition
For a more in depth experience, check out the Collector's Edition
2 Tasty Too
Libby and Cole are off on a vacation to France in 2 Tasty Too: l'Amour a Paris! Once there, Libby's friend Matthieu offers to teach her how to make delicious delicacies and become an expert in French cuisine! Travel all over France and cook up incredible meals in this fantastic Time Management game. Become a gourmet chef and learn real recipes all while enjoying fast-paced fun in 2 Tasty Too: l'Amour a Paris!
Become a gourmet chef
Explore Paris
Cook up French cuisine!
Solitaire Kingdom Quest
After the King chooses you to join the Solitaire Heroes, you're off on an epic adventure in Solitaire Kingdom Quest! Head out for a dragon's lair, and defeat the Evil Knight who is jealous of your success. Take out his gremlin minions, master his minigames, and defeat terrifying dragons in this exciting Card & Board game. Make the King proud and survive an incredible journey in Solitaire Kingdom Quest!
Make the King proud
Master the minigames
Defeat the Gremlins!
iPhone/iPad/Android Games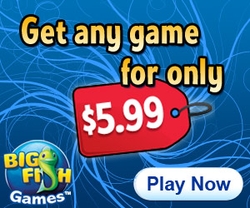 Recommended Sites