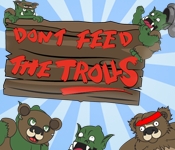 Don't Feed the Trolls [XBLIG] by

Frozax Games
In a world of mountains and forests, honor the famous warning: "Don't Feed the Trolls". You need sharp reflexes to feed the bears without accidentally feeding a troll. Be careful, because the mighty trolls are desperate and will do anything to trick you. Don't get scared and chase them with huge slaps! Don't Feed the Troll is a fast-paced reflex game played in 1-minute levels. Amongst the starving bear, the stubborn bear, the disguised troll or the king troll, a total of 12 kinds of bears and trolls will add originality and variety in each level. Compare your scores with your friends and the best players with the online leaderboards.
Play
Don't Feed the Trolls [XBLIG]

on your favorite platform
Mystery Case Files ®: Dire Grove
The Celtic legend of Dire Grove has been passed down from generation to generation for centuries. Considered a fairytale, its telling was meant to frighten small children into staying in their beds through the night. A recently unearthed artifact in the United Kingdom, however, proves the dark legend to be true! Use your wits and Hidden Object talents to follow the trail of a group of missing graduate students in Mystery Case Files: Dire Grove!
Beautiful Hidden Object scenes
Check out our Blog Walkthrough
Get the Strategy Guide
If you love MCF, be sure to check out the Collector's Edition
Visit Mysterycasefiles.com
Grim Tales: The Legacy
After being invited to the Christening of your sister's son, you arrive to find a deserted estate in Grim Tales: The Legacy! After getting married to the love of her life, it seems like a happy ending is right around the corner for your sister. However, all is not well. The sounds of ravenous beasts echo through the halls of the once great estate and your sister is missing! Use your Hidden Object talents to track down her family and save them in Grim Tales: The Legacy!
Explore a deserted estate
Avoid dangerous beasts
For a more in depth experience, check out the Collector's Edition
Get the Strategy Guide!
Check out our Blog Walkthrough
iPhone/iPad/Android Games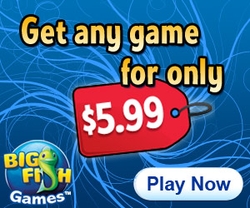 Recommended Sites