Don't Feed the Trolls by

Frozax Games
You will need sharp reflexes to feed the bears while avoiding the trolls getting in your way. Don't get scared and chase the trolls away with huge slaps! Using intuitive gestures (tap to feed, swipe to slap), Don't Feed the Trolls brings you four different game modes:
Classic: You have 40 seconds to get the three stars in each level. You will then unlock more levels and progressively discover new characters.
Time Attack: 100 bears appear and you must feed them as fast as possible. Tip: to reach high scores, use both hands!
Slap Party: A lot of trolls appear in waves, faster and faster. You need to slap them all!
Versus (two players): On the split screen, you must feed your bears before your opponent to win the round.
With an
accessible gameplay
(Tap to feed the bears, swipe to slap the trolls), Don't Feed the Trolls let you discover amazing characters, such as the speedy bear, the sneaky troll (with a bear mask), the king troll and many more...
The game also has
achievements
and
leaderboards
for every game mode. They are integrated into
Game Center
on iPhone, iPad and iPodTouch.
More than 650,000 trolls have been slapped and 3.5 million bears fed already (click for real-time stats)!
Magic Cauldron Chaos
Lisa is an inventive witch, highly skilled in the art of crafting potions. One day, however, one of her potions goes awry and opens a rift that drops her in another world. This strange world is made up of floating islands inhabited by peaceful gnomes and thieving imps. Only the gnomes know how to get Lisa back home to her own world. But first, she must help them defeat the imps who have been stealing all of their magic potion ingredients. By constructing resource buildings and matching potion ingredients, Lisa can clear the way across the five islands for the gnomes to gather the artifacts that will open the portal home. Construct various buildings to produce potion ingredients. Guide the gnomes to match ingredients to make potions. Purchase dozens of upgrades to create more valuable potions.
Jane Austen's: Estate of Affairs
The Austen estate is in trouble! Take on the role of Christiana, the niece of beloved novelist Jane Austen. Explore actual locations from Austen's life, such as Chawton House, as you search Hidden Object scenes for Austen's missing novel! The game faithfully mimics Regency period culture as the characters both real and imagined. Follow in Austen's footsteps, hoping to uncover the lost manuscript. Will you help Christiana find her beloved aunt's book, as well as Christiana's true love? Scour through over 20 Hidden Object scenes Challenging mini-games and adventure puzzles Excerpts from Austen's most popular novels Explore real locations, such as Chawton House
iPhone/iPad/Android Games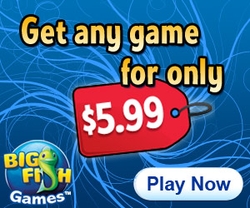 Recommended Sites