Don't Feed the Trolls by

Frozax Games
You will need sharp reflexes to feed the bears while avoiding the trolls getting in your way. Don't get scared and chase the trolls away with huge slaps! Using intuitive gestures (tap to feed, swipe to slap), Don't Feed the Trolls brings you four different game modes:
Classic: You have 40 seconds to get the three stars in each level. You will then unlock more levels and progressively discover new characters.
Time Attack: 100 bears appear and you must feed them as fast as possible. Tip: to reach high scores, use both hands!
Slap Party: A lot of trolls appear in waves, faster and faster. You need to slap them all!
Versus (two players): On the split screen, you must feed your bears before your opponent to win the round.
With an
accessible gameplay
(Tap to feed the bears, swipe to slap the trolls), Don't Feed the Trolls let you discover amazing characters, such as the speedy bear, the sneaky troll (with a bear mask), the king troll and many more...
The game also has
achievements
and
leaderboards
for every game mode. They are integrated into
Game Center
on iPhone, iPad and iPodTouch.
More than 650,000 trolls have been slapped and 3.5 million bears fed already (click for real-time stats)!
House of 1000 Doors: Serpent Flame
Return to the House of 1,000 Doors to save mankind from annihilation! Giant snakes have burst out of the Earth and are wreaking destruction across every continent. Your mission: travel back in time to four different epochs to gather the elements needed to activate a machine that can destroy the ancient beasts! Get the Strategy Guide! Check out our Blog Walkthrough For a more in depth experience, check out the Collector's Edition
Sparkling Amber
Help Amber expand her Jewel Shop! Keep your eye on the clock as you hurry to find the perfect jewels for your customers and replenish the counters after each sale! Meet fun and eccentric shoppers, craft unique and beautiful jewels for the king, and grow your business in this exciting Time-Management game! Can you keep up with the droves of capricious customers? Five unique venues Progressively challenging gameplay Grow your business!
iPhone/iPad/Android Games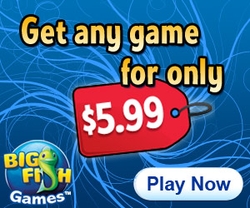 Recommended Sites