Don't Feed the Trolls by

Frozax Games
You will need sharp reflexes to feed the bears while avoiding the trolls getting in your way. Don't get scared and chase the trolls away with huge slaps! Using intuitive gestures (tap to feed, swipe to slap), Don't Feed the Trolls brings you four different game modes:
Classic: You have 40 seconds to get the three stars in each level. You will then unlock more levels and progressively discover new characters.
Time Attack: 100 bears appear and you must feed them as fast as possible. Tip: to reach high scores, use both hands!
Slap Party: A lot of trolls appear in waves, faster and faster. You need to slap them all!
Versus (two players): On the split screen, you must feed your bears before your opponent to win the round.
With an
accessible gameplay
(Tap to feed the bears, swipe to slap the trolls), Don't Feed the Trolls let you discover amazing characters, such as the speedy bear, the sneaky troll (with a bear mask), the king troll and many more...
The game also has
achievements
and
leaderboards
for every game mode. They are integrated into
Game Center
on iPhone, iPad and iPodTouch.
More than 650,000 trolls have been slapped and 3.5 million bears fed already (click for real-time stats)!
Legend of Fae
After her peaceful island is invaded by strange creatures, Claudia must find her uncle in Legend of Fae, an incredible Match 3 game! The Fae are wreaking havoc and causing all kinds of chaos on Sea Cross Island and must be stopped! Four elementals approach Claudia and she discovers that she is actually a sorceress! Set off on an amazing adventure as you help Claudia battle her way to the mysterious Faery Gates in Legend of Fae!
Stop the evil Fae
Save Sea Scross Island
Help Claudia find her uncle!
Between the Worlds II: The Pyramid
Explore a world ruled by both technology and magic and unveil the pyramid's power in Between the Worlds II: The Pyramid! After a famous professor goes missing, you are hired to track him down. Lead your detective agency on this incredible case and explore an incredible new world. Find important clues and follow the professor's trail in this amazing Hidden Object Puzzle Adventure game. Solve the case and save the professor in Between the Worlds II: The Pyramid!
Explore a magical world
Find the professor
Unveil a pyramid's magic!
iPhone/iPad/Android Games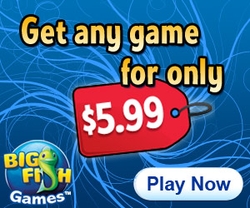 Recommended Sites