Fruit Mania
Survive Fruit Mania in this incredible, unique, and fun Match 3 game! Stop the bugs from eating your fruit by clearing the level and using terrific traps that you unlock by matching the different fruits. With countless levels and challenging gameplay, Fruit Mania is sure to keep you entertained for hours. Grow different trees to earn powerful new weapons like the Blade and Smart Bomb. Can you destroy the bugs and survive?
Destroy the bugs
Protect your fruit
Survive Fruit Mania!
Sea Legends: Phantasmal Light
After their yacht is sunk by an incredible storm, Jane and Mike are separated in Sea Legends: Phantasmal Light! Waking up on a mysterious island, Jane must now figure out what happened and find Mike before it's too late. Explore amazing Hidden Object scenes and solve tricky puzzles as you uncover a terrifying truth on the island. Escape from danger and be reunited with Mike in Sea Legends: Phantasmal Light!
Explore an island
Solve tricky puzzles
For a more in depth experience, check out the Collector's Edition
Get the Strategy Guide!
Check out our Blog Walkthrough
Gemaica
Unlock magical islands in Gemaica and discover incredible treasures in this fun Puzzle Adventure game! Join the quest to save the world and restore peace and harmony to the world by solving a mystery somewhere amidst the vast seas. Loot, explosives, and wild creatures are waiting to be found. Unlock amazing achievements, wield incredible powerups, and lead the way to victory in Gemaica!
Unlock amazing islands
Save the world
Discover magical treasures!
iPhone/iPad/Android Games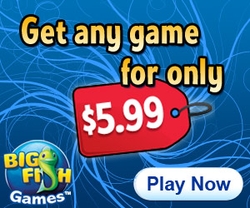 Recommended Sites