Hashi Puzzles: Bridges & Islands by

Frozax Games
Hashiwokakero (also called Ai-Ki-Ai, Bridges or Chopsticks) is the new sudoku-like game that will keep you entertained for hours! Try to complete the 420 levels of this logic puzzle game!
Features:
420 Levels organized in packs
5 different board sizes of increasing difficulty
Each level has a unique solution, no random move or bogus level
Hints available if you are stuck
Collect stars by completing levels without using hints
Press / Reviews
The Indie Mine - " A solid, traditional puzzle experience.", Brandon Schmidt
Times of Vikings
The once peaceful village of Hawksworth has been torn apart by huge earthquakes. The Dragon, Yggdrasil, who has been sleeping quietly at the roots of the Tree of Life, has awoken from his thousand year slumber and has begun to incinerate the roots of the tree. The strongest warriors of the village have embarked on a quest to find the four elemental runes and fight the Dragon! Will they be able to find the missing runes and save the Viking Worlds? Guide them to success and defeat the Dragon in this action-packed Time-Management adventure! Amazing gameplay and graphics Over 20 unique buildings and upgrades 40 levels of fun in four different worlds
Dark Dimensions: City of Ash
You've been studying the supernatural phenomenon known as dark dimensions since you were very young, hoping that they will eventually lead you to your missing family, but nothing has prepared you for the danger that awaits you in Phoenix Hill, California. Once a prosperous mining town in the 1950s, a volcanic eruption changed everything. Now its citizens are trapped as spirits of ash, unable to move on. Can you uncover the tragedy that caused this dark dimension to appear? While most of the inhabitants are friendly, one fiery ghost will do anything to stop you. Volcanic tremors are rumbling beneath your feet. Will the volcano erupt again? Watch your step in Dark Dimensions: City of Ash, a sizzling Hidden Object Puzzle Adventure game. Check out our Blog Walkthrough Get the Strategy Guide! For a more in depth experience, check out the Collector's Edition Help Phoenix Hill rise from the ashes!
iPhone/iPad/Android Games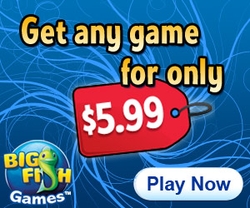 Recommended Sites