Hashi Puzzles: Bridges & Islands by

Frozax Games
Hashiwokakero (also called Ai-Ki-Ai, Bridges or Chopsticks) is the new sudoku-like game that will keep you entertained for hours! Try to complete the 420 levels of this logic puzzle game!
Features:
420 Levels organized in packs
5 different board sizes of increasing difficulty
Each level has a unique solution, no random move or bogus level
Hints available if you are stuck
Collect stars by completing levels without using hints
Press / Reviews
The Indie Mine - " A solid, traditional puzzle experience.", Brandon Schmidt
Vacation Adventures: Park Ranger
Spend an exciting and adventurous summer working as a Park Ranger in a stunning National Park. Visit log cabins and areas of outstanding natural beauty such as lakes, woodland trails and mountain vistas. Set up outdoor activities like boating, rock climbing, horse riding, mountain biking and much much more. Perform your duties as a Park Ranger and protect the environment by collecting all the bonus trash items to recycle. Earn even more bonuses for finding all the Lost & Found items scattered around the Park. Enjoy this outstanding collection of Hidden Object Scenes and puzzles set in the great outdoors. Stunning scenes of natural beauty. Fabulous hidden object scenes and challenges. Spend a Summer Vacation as a Park Ranger!
Skeleton Pirates
Get ready for the ultimate battle in Skeleton Pirates! The pirates are after your treasure maps that are well-hidden on your ship! Defend your ship and protect your maps using an armory of cannons, catapults, bombs and other obstacles. Don't let the pirates enter your chambers to steal your treasure or lay their scrawny hands on your precious maps! Be warned, the longer you defend your loot, the more aggressive these pirates become. They will use every trick in the book, from bombarding your ship to using ropes to board; they'll even play magic tricks in an effort to reach their goal! Can you protect your ship and crew from these boney bandits? 3 unique game modes 120 different levels in adventure mode 40 weapons to choose from
iPhone/iPad/Android Games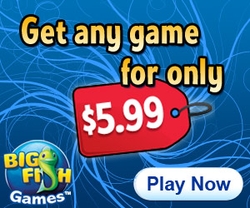 Recommended Sites