Hashi Puzzles: Bridges & Islands by

Frozax Games
Hashiwokakero (also called Ai-Ki-Ai, Bridges or Chopsticks) is the new sudoku-like game that will keep you entertained for hours! Try to complete the 420 levels of this logic puzzle game!
Features:
420 Levels organized in packs
5 different board sizes of increasing difficulty
Each level has a unique solution, no random move or bogus level
Hints available if you are stuck
Collect stars by completing levels without using hints
Press / Reviews
The Indie Mine - " A solid, traditional puzzle experience.", Brandon Schmidt
Jennifer Wolf and the Mayan Relics
Invited to join her father on an archaeological dig, Jennifer Wolf instead finds him missing. Play as Jennifer as she explores the ruins of the Maya civilization in search of her father. Collect precious Maya relics and uncover ancient secrets. Will you see your father again? Find out in Jennifer Wolf and the Mayan Relics! Historical locations Varied soundtrack Several unlockable mini-games
Beware Planet Earth!
"Beware Planet Earth!" Heed the warning from the red planet, Earthlings! Our beloved globe is about to fall victim to a Martian strike against our single most valuable resource: cows! Protect Barney's bovine beauties in this colorful and whimsical tower defense game. Build an effective defense using towers, traps and objects, and fire your raygun at the green men. Help us repel the Martian invasion! Full Story Mode with 18 bonus challenges! 20 whacky machines, including the Helicowpter! Over 20 quirky Martians, from the Metalhead to the Ninja!
iPhone/iPad/Android Games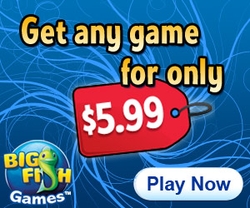 Recommended Sites