Hashi Puzzles: Bridges & Islands by

Frozax Games
Hashiwokakero (also called Ai-Ki-Ai, Bridges or Chopsticks) is the new sudoku-like game that will keep you entertained for hours! Try to complete the 420 levels of this logic puzzle game!
Features:
420 Levels organized in packs
5 different board sizes of increasing difficulty
Each level has a unique solution, no random move or bogus level
Hints available if you are stuck
Collect stars by completing levels without using hints
Press / Reviews
The Indie Mine - " A solid, traditional puzzle experience.", Brandon Schmidt
Mystery Trackers: The Four Aces
Stop a devious conspiracy in Mystery Trackers: Four Aces! The entire town of Brightfield was evacuated after a series of bizarre animal attacks. Now, strange creatures roam the streets, danger lurks around every corner and youve just landed smack in the middle of it all. As you begin to investigate, you discover that the attacks may have been part of a whole series of crimes committed in town, all tracing back to an organization called the Four Aces. But just who are the Aces and what is their plan? With the help of your trusty canine companion, Elf, you must keep digging to get to the bottom of things. Good luck out there, Detective. Youre going to need it! Check out our Blog Walkthrough Get the Strategy Guide! For a more in depth experience, check out the Collector's Edition
Rush for Gold: Alaska
Who says the time of the great gold prospectors has passed?! You have an opportunity to be one yourself! Explore locations for gold and other useful resources, protect your workers from wild animals and robbers and build the town of your dreams in Rush for Gold: Alaska! Two game modes - time-limited and free play. Exciting, dynamic gameplay. Lots of buildings and units to interact with.
iPhone/iPad/Android Games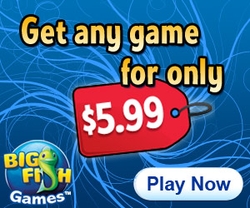 Recommended Sites