Hashi Puzzles: Bridges & Islands by

Frozax Games
Hashiwokakero (also called Ai-Ki-Ai, Bridges or Chopsticks) is the new sudoku-like game that will keep you entertained for hours! Try to complete the 420 levels of this logic puzzle game!
Features:
420 Levels organized in packs
5 different board sizes of increasing difficulty
Each level has a unique solution, no random move or bogus level
Hints available if you are stuck
Collect stars by completing levels without using hints
Press / Reviews
The Indie Mine - " A solid, traditional puzzle experience.", Brandon Schmidt
Awakening: The Skyward Castle
Awakening: The Skyward Castle tells the tale of young Princess Sophia, who awakens from a magical century-long slumber into a land threatened by an ancient evil. Braving the dangers of an unfamiliar world, Princess Sophia has travelled far to discover the fate of her exiled kingdom. Having no magic of her own in a land built with living magic, she must overcome the many foes, perils and obstacles with her wit, skill and allies. Can Princess Sophia lift the curse that plagues her people? Find out in this epic conclusion! Complete the first Awakening series Colorful locations and characters Check out our Blog Walkthrough Get the Strategy Guide! For a more in-depth experience, check out the Collector's Edition!
Dark Parables: The Final Cinderella
For decades, a mysterious witch, known as the evil Godmother, has been hunting maidens in search of the legendary "Cinderella." Play as the fabled detective, rescue the Final Cinderella from the evil Godmother's clutches, and stop her evil plans to conquer the world! Check out our Blog Walkthrough Get the Strategy Guide! For a more in depth experience, check out the Collector's Edition
iPhone/iPad/Android Games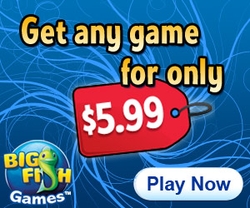 Recommended Sites