Hashi Puzzles: Bridges & Islands by

Frozax Games
Hashiwokakero (also called Ai-Ki-Ai, Bridges or Chopsticks) is the new sudoku-like game that will keep you entertained for hours! Try to complete the 420 levels of this logic puzzle game!
Features:
420 Levels organized in packs
5 different board sizes of increasing difficulty
Each level has a unique solution, no random move or bogus level
Hints available if you are stuck
Collect stars by completing levels without using hints
Press / Reviews
The Indie Mine - " A solid, traditional puzzle experience.", Brandon Schmidt
Rush for Gold: Alaska
Who says the time of the great gold prospectors has passed?! You have an opportunity to be one yourself! Explore locations for gold and other useful resources, protect your workers from wild animals and robbers and build the town of your dreams in Rush for Gold: Alaska! Two game modes - time-limited and free play. Exciting, dynamic gameplay. Lots of buildings and units to interact with.
Sable Maze: Sullivan River
Every night you have the same nightmare. You see children wandering through a maze, crying for help. These sleepless nights are ruining your waking life. To stop them, you must return to Sullivan River Summer Camp to uncover what happened during that long-forgotten summer. Beware though, this camp isn't all that it seems. With every step, you can feel eyes watching you. Reveal the secret of the ancient labyrinth in this eerie Hidden Object Puzzle Adventure game. Hidden Objects! Adventurous puzzles! Get the Strategy Guide! Check out our Blog Walkthrough For a more in-depth experience, check out the Collector's Edition
iPhone/iPad/Android Games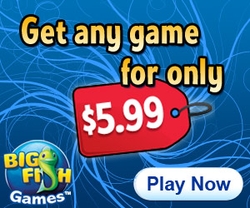 Recommended Sites