Hashi Puzzles: Bridges & Islands by

Frozax Games
Hashiwokakero (also called Ai-Ki-Ai, Bridges or Chopsticks) is the new sudoku-like game that will keep you entertained for hours! Try to complete the 420 levels of this logic puzzle game!
Features:
420 Levels organized in packs
5 different board sizes of increasing difficulty
Each level has a unique solution, no random move or bogus level
Hints available if you are stuck
Collect stars by completing levels without using hints
Press / Reviews
The Indie Mine - " A solid, traditional puzzle experience.", Brandon Schmidt
Around the World by

Frozax Games
Prepare yourself for a trip Around the World with this original block-matching puzzle game! During your tour, progressively discover wonders of ten cities by completing the levels on time!
Around the World features 100 levels organized in 20 different layouts with many powerful power-ups. You will gather up to 18 awards by performing matches and combos!
There are three different game modes: Adventure, Relaxing (unending game) and Quick Game. Become famous with the online hiscores table (try to get your name right here!). Play with your family using player profiles and saved games.
Play
Around the World

on your favorite platform
Whispered Secrets: The Story of Tideville
Uncover the mysterious past of a sleepy seaside village in Whispered Secrets: The Story of Tideville! You and your son, Tim, recently moved to the small town of Tideville to make a fresh start. One peaceful autumn evening, you arrive home just in time to see Tim vanish into thin air! Armed with only your wits and a cryptic clue about a scientist, you set out to find your son. But you soon learn that Tim was not the first resident of Tideville to disappear... In fact, people have been going missing for years. But who is behind it all? And what do they want? Unravel the town's dark secret in this stunning Hidden Object game! Perplexing puzzles Intriguing story For a more in depth experience, check out the Collector's Edition Get the Strategy Guide! Check out our Blog Walkthrough
iPhone/iPad/Android Games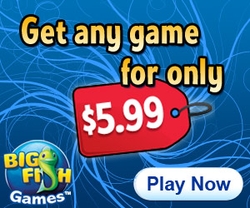 Recommended Sites