Mystery Case Files ®: Dire Grove
The Celtic legend of Dire Grove has been passed down from generation to generation for centuries. Considered a fairytale, its telling was meant to frighten small children into staying in their beds through the night. A recently unearthed artifact in the United Kingdom, however, proves the dark legend to be true! Use your wits and Hidden Object talents to follow the trail of a group of missing graduate students in Mystery Case Files: Dire Grove!
Beautiful Hidden Object scenes
Check out our Blog Walkthrough
Get the Strategy Guide
If you love MCF, be sure to check out the Collector's Edition
Visit Mysterycasefiles.com
City of Secrets
After he falls down a hole in your basement, you must Save Rex from a City of Secrets in this incredible Adventure game! Not only has Rex found a city of mole-people, but he's also been charged with espionage! Find useful items that you'll use as you solve puzzles and try to free Rex before it's too late! Scour gorgeous levels and save your best friend before he's convicted of a crime he didn't commit in City of Secrets!
Explore a city of mole-people
Go on an underground adventure
Save Rex from a City of Secrets!
Time Dreamer: Temporal Betrayal
After joining a research team you are sent out to mine valuable krawtite in Time Dream: Temporal Betrayal! Before the mission can get underway, the entire operation crashes on the runway. Use your Time Dream skills to find the saboteur and prevent the deadly accident from occurring again in this incredible Hidden Object game. Invistigate a 60s flower child, a gruff professor, and an annoying slob as you try to track down the criminal in Time Dream: Temporal Betrayal!
Investigate your team
Prevent the deadly explosion
Hunt down the saboteur!
iPhone/iPad/Android Games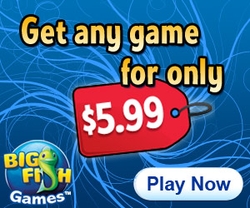 Recommended Sites