Mirrors & Reflections Puzzles by

Frozax Games
In this logic puzzle game, place mirrors to direct the lasers to the proper exit!
Guess the orientation of the mirrors with logic only. No random moves.
Can you solve the 1040 levels of increasing difficulty?
Features:
1040 levels for beginners and experts
Free unlimited use of hints when you are stuck
Collect a star in each level
The game is available in English, French, Italian, German, Spanish, Brasilian/Portugese, Dutch, Russian, Chinese, Japanese and Korean.
The Last Days
Discover clues left by advanced civilizations and stop the return of an ancient enemy in The Last Days! While on vacation you find strange out of place artifacts. How did these objects get here? What are they supposed to do? It's up to you, the clock is running and Earth is counting on you! Over 40 gorgeous detailed locations Unique airplane navigation Thrilling action story
Farm Mystery: The Happy Orchard Nightmare
If you go down to the farm tonight you're in for a big surprise! Everything is not what it seems down on Happy Orchard Farm, as residents of the local town have mysteriously disappeared. Is there an innocent explanation, or could the farm be at the mercy of supernatural forces? It's up to you to discover the secrets of the farm and uncover the chilling mystery! Search for objects, collect key items, and solve mini-games and puzzles all set in the seemingly haunted farm. Can you conquer your fears and discover the truth in this thrilling supernatural adventure game? 20 chilling adventure screens 15 unique hidden object scenes 15 challenging mini-games Strong characters with a dark and mysterious plot!
iPhone/iPad/Android Games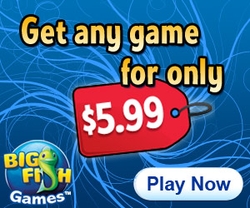 Recommended Sites