Surface: Mystery of Another World
After your son, Bobby, mysteriously disappears, it's up to you to find him in Surface: The Mystery of Another World! A peaceful train ride to the coast goes way off course and now strange occurrences are happening all around you! It seems that there is another world just past your reflection. Use your Hidden Object talents to explore the mysterious area and save Bobby before it's too late in Surface: the Mystery of Another World!
Explore another world
Survive strange occurences
For a more in-depth experience, check out the Collector's Edition!
Get the Strategy Guide!
Check out our Blog Walkthrough
Vagrant Hearts 2
Valmor has been defeated and the Brotherhood has restored its reputation, but difficult times are approaching in Vagrant Hearts 2! Weeks after disappearing, Scarllet and Wyatt are found in Dark Azulel, a land forgotten by the government. These islands are governed by no one and are full of danger. A mysterious and dangerous group called the Black Scepters are up to no good, and it's up to you to stop them in Vagrant Hearts 2!
Hidden dungeons
Incredible weapons
Stop the Black Scepters!
Play Vagrant Hearts
Treasure Seekers: The Time Has Come
The time has come for Nelly and Tom to stop a potential catastrophe and save the world in Treasure Seekers: The Time has Come! With new powerful devices, such as the Ring of Time and the X-Glass, Nelly and Tom must go on their most exciting adventure yet! Is Totenkraft really as evil as they previously thought? Find out in this incredible Hidden Object Puzzle Adventure game!
Awesome gameplay
Get the Strategy Guide!
Check out our Blog Walkthrough
Play Treasure Seekers: The Enchanted Canvases
For a more in depth experience, check out the Collector's Edition
iPhone/iPad/Android Games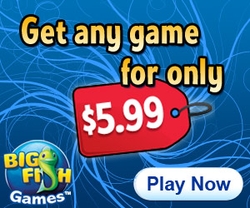 Recommended Sites