Toki Tori
Help the adorable Toki Tori collect eggs and guide him through dangerous levels using incredible weapons in this fun Action & Arcade game! Use different items to avoid dangerous obstacles as you travel to different worlds. Collect the Telewarp, InstanRock, and Slug Sucker to aid you in your incredible journey. Solve tricky puzzles as you travel underwater, to a world covered in lava, and more in Toki Tori!
Use awesome weapons
Collect eggs
Help the adorable Toki Tori!
All My Gods
Lead Saturn's son to the top of the Pantheon and help him become a mighty god in All My Gods! When Saturn decides to retire, he wants his son to take his place. The council of the gods respectfully accepts his will and welcomes an heir to take Saturn's place on one condition: He has to prove that he is worthy of their trust and divine powers he is about to receive. Outsmart the other gods who would try to stop you in All My Gods, an incredible Strategy game!
Help a small village prosper
Use incredible powers
Become a mighty god!
Haunted Halls: Fears from Childhood
Explore the evil Dr. Blackmore's latest experiment in a Haunted Halls: Fears from Childhood, a terrifying Hidden Object Puzzle Adventure game! After dragging Tim through a mysterious portal, Dr. Blackmore reveals his newest atrocity: a world that makes the fears of children a reality. Help the hapless victims confront their fears and return home. Track Dr. Blackmore to his lair and save the day in Haunted Halls: Fears from Childhood!
Incredible gameplay
Spooky atmosphere
For a more in-depth experience, check out the Collector's Edition!
Get the Strategy Guide!
Check out our Blog Walkthrough!
iPhone/iPad/Android Games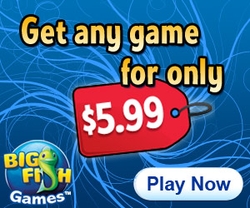 Recommended Sites