Battleship Solitaire Puzzles by

Frozax Games
In this logic puzzle game, you need to find the battleships hidden in a grid.
Guess the location of the boats with logic only. No random moves.
Use the hints displayed at the end of each row and column to help you solve the puzzles.
Start with small grids and become an expert to solve huge ones!
Can you solve the 420 levels of increasing difficulty?
420 levels for beginners and experts
Free unlimited use of hints when you are stuck
Collect a star in each level
The game is available in English, French, Italian, German, Spanish, Brasilian/Portugese, Russian, Chinese, Japanese and Korean.
Jewel Quest: The Sapphire Dragon
After crash-landing on a frozen mountain Raj makes an incredible discovery in Jewel Quest 6: The Sapphire Dragon! Explore the Temple of Wishes, an ancient complex thought to be only a legend, and take on a gang of ruthless pirates. Solve action-packed Jewel Boards and challenge yourself with bonus levels as you explore the entire globe. Play as different characters with unique abilities and tackle new challenges in Jewel Quest 6: The Sapphire Dragon!
Action-packed Jewel Boards
Unique characters
Pursue ruthless pirates!
Mother Nature
Help Autumn rescue her fairy friends and stop the Spirit of Gloom in Mother Nature, an exciting Strategy game! Destroy the plants that the evil spirit has left and replace them with peaceful flowers that dissipate the gloom. Restore the forest and rescue the cute critters that are being tormented by the polluting plants and save the day! Pick up trash, dig up the weeds, and save the other fairies in Mother Nature!
Free the other fairies
Destroy the devilish weeds
Stop the Spirit of Gloom!
iPhone/iPad/Android Games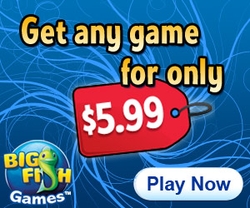 Recommended Sites