Battleship Solitaire Puzzles by

Frozax Games
In this logic puzzle game, you need to find the battleships hidden in a grid.
Guess the location of the boats with logic only. No random moves.
Use the hints displayed at the end of each row and column to help you solve the puzzles.
Start with small grids and become an expert to solve huge ones!
Can you solve the 420 levels of increasing difficulty?
420 levels for beginners and experts
Free unlimited use of hints when you are stuck
Collect a star in each level
The game is available in English, French, Italian, German, Spanish, Brasilian/Portugese, Russian, Chinese, Japanese and Korean.
Shaolin Mystery: Revenge of the Terracotta Warriors
Save your people from an invading force in Shaolin Mystery: Revenge of the Terracotta Warriors! Travel dangerous mountain roads, visit Shaolin temples, free a mighty dragon, and save your village in this exciting Hidden Object game! Find useful items as you search beautiful locations and explore ancient China. Will you work quickly enough to stop the Terracotta Warriors? Find out in Shaolin Mystery: Terracotta Warriors!
Visit Shaolin temples
Free a mighty dragon
Stop the Terracotta Warriors!
Check out our Blog Walkthrough
Mystery Case Files ®: Dire Grove
The Celtic legend of Dire Grove has been passed down from generation to generation for centuries. Considered a fairytale, its telling was meant to frighten small children into staying in their beds through the night. A recently unearthed artifact in the United Kingdom, however, proves the dark legend to be true! Use your wits and Hidden Object talents to follow the trail of a group of missing graduate students in Mystery Case Files: Dire Grove!
Beautiful Hidden Object scenes
Check out our Blog Walkthrough
Get the Strategy Guide
If you love MCF, be sure to check out the Collector's Edition
Visit Mysterycasefiles.com
iPhone/iPad/Android Games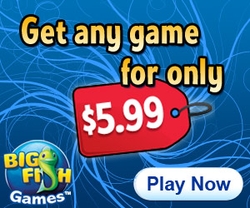 Recommended Sites