Battleship Solitaire Puzzles by

Frozax Games
In this logic puzzle game, you need to find the battleships hidden in a grid.
Guess the location of the boats with logic only. No random moves.
Use the hints displayed at the end of each row and column to help you solve the puzzles.
Start with small grids and become an expert to solve huge ones!
Can you solve the 420 levels of increasing difficulty?
420 levels for beginners and experts
Free unlimited use of hints when you are stuck
Collect a star in each level
The game is available in English, French, Italian, German, Spanish, Brasilian/Portugese, Russian, Chinese, Japanese and Korean.
Dance of Death
The magic of music and love against black magic death. Dance of Death! Will good conquer evil? Investigate the mysterious disappearance of young Luciano Folgeri from the orphanage. Immerse yourself in the atmosphere of an old Venetian mansion full of mysteries. Defeat your fear of ancient curses and prove that love is stronger than death. Do not be afraid! Save the boy! The universe of good spirits is on your side, and the great power of music will help you to succeed. Five different types of hidden objects scenes Unique "Golden Mask" mini games Mystic story component
Awakening: The Dreamless Castle
After Awakening in a mysterious castle it's up to you to collect clues and valuable items needed to solve perplexing puzzles and escape! Listen to your fairy friend as she guides you towards the exit. Play fun minigames and solve clever locks to make it to the next room in the castle. Use your Hidden Object skills to search for the next hint and discover a young Princess' destiny in Awakening: The Dreamless Castle. Gorgeous graphics Escape the castle! Check out our Blog Walkthrough Get the Strategy Guide!
iPhone/iPad/Android Games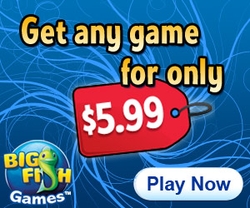 Recommended Sites