Don't Feed the Trolls by

Frozax Games
You will need sharp reflexes to feed the bears while avoiding the trolls getting in your way. Don't get scared and chase the trolls away with huge slaps! Using intuitive gestures (tap to feed, swipe to slap), Don't Feed the Trolls brings you four different game modes:
Classic: You have 40 seconds to get the three stars in each level. You will then unlock more levels and progressively discover new characters.
Time Attack: 100 bears appear and you must feed them as fast as possible. Tip: to reach high scores, use both hands!
Slap Party: A lot of trolls appear in waves, faster and faster. You need to slap them all!
Versus (two players): On the split screen, you must feed your bears before your opponent to win the round.
With an
accessible gameplay
(Tap to feed the bears, swipe to slap the trolls), Don't Feed the Trolls let you discover amazing characters, such as the speedy bear, the sneaky troll (with a bear mask), the king troll and many more...
The game also has
achievements
and
leaderboards
for every game mode. They are integrated into
Game Center
on iPhone, iPad and iPodTouch.
More than 650,000 trolls have been slapped and 3.5 million bears fed already (click for real-time stats)!
Night Mysteries: The Amphora Prisoner
Natalie Cole, a young writer, is late to board the ship that was to take her home to America. Already depressed by a chain of misfortunes, Natalie becomes absolutely despondent. Just when she is about to give up hope of getting home, she meets a captain at the port who is sailing a cargo ship to her very same destination, and he invites her to sail along with him and his crew. Natalie, relieved at her good fortune, agrees. Little does she know, this random stroke of good luck hasn't come without a price. Natalie has unwittingly embarked on a dangerous and exciting journey where she must prevent ancient evil from awakening inside a mysterious antique collection on board the cargo ship! Can Natalie save the crew and its captain from evil spirits and still return home? Enjoy puzzles and mini games! Captivating and outstanding storyline Fascinating quests
Farm Frenzy 4
Save grandpa and grandma's farm from foreclosure in the wacky and wonderful Farm Frenzy 4! Virtual farming has never been more fun, so grab yer overalls, roll up yer sleeves and get ready for an egg-crackin', cow-milking, sheep-shearin' good time! 90 levels and 4 worlds 3D graphics Learn-as-you-play tutorial Play the original Farm Frenzy!
iPhone/iPad/Android Games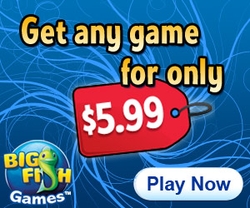 Recommended Sites