Mirrors & Reflections Puzzles by

Frozax Games
In this logic puzzle game, place mirrors to direct the lasers to the proper exit!
Guess the orientation of the mirrors with logic only. No random moves.
Can you solve the 1040 levels of increasing difficulty?
Features:
1040 levels for beginners and experts
Free unlimited use of hints when you are stuck
Collect a star in each level
The game is available in English, French, Italian, German, Spanish, Brasilian/Portugese, Dutch, Russian, Chinese, Japanese and Korean.
Times of Vikings
The once peaceful village of Hawksworth has been torn apart by huge earthquakes. The Dragon, Yggdrasil, who has been sleeping quietly at the roots of the Tree of Life, has awoken from his thousand year slumber and has begun to incinerate the roots of the tree. The strongest warriors of the village have embarked on a quest to find the four elemental runes and fight the Dragon! Will they be able to find the missing runes and save the Viking Worlds? Guide them to success and defeat the Dragon in this action-packed Time-Management adventure! Amazing gameplay and graphics Over 20 unique buildings and upgrades 40 levels of fun in four different worlds
Awakening: The Dreamless Castle
After Awakening in a mysterious castle it's up to you to collect clues and valuable items needed to solve perplexing puzzles and escape! Listen to your fairy friend as she guides you towards the exit. Play fun minigames and solve clever locks to make it to the next room in the castle. Use your Hidden Object skills to search for the next hint and discover a young Princess' destiny in Awakening: The Dreamless Castle. Gorgeous graphics Escape the castle! Check out our Blog Walkthrough Get the Strategy Guide!
iPhone/iPad/Android Games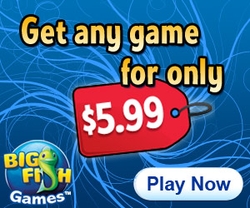 Recommended Sites