Midnight Mysteries: Haunted Houdini Deluxe
When Houdini's promises of contact from beyond go unkept, his wife comes to you in a final plea to unravel his mysterious passing in Midnight Mysteries: Haunted Houdini Deluxe! When he promised his wife that he would try to reach her from the afterlife, it was seen as the ultimate stunt. But after years of séances, Bess was never able to reach Harry in this life or the next, and her spirit has come to you in a final plea to reunite her with her partner! Deluxe games include an Integrated Strategy Guide!
Meet other apparitions
Help Bess contact her love
Unravel Houdini's mysterious death!
Check out the Blog Walkthrough
Syberia - Part 1
[Note: If you own the original Syberia, this is the same adventure.] Search a mysterious estate and find a brilliant and mysterious inventor in Syberia: Part 1 and experience the first part of this incredible trilogy! Kate Walker is a young lawyer visiting France to close the sale of a large manufacturing estate. But when the estate's owner turns up dead, Kate must search for the hidden heir. Delve into a mechanical wonderland filled with puzzles and surprises, on a journey that reaches far into the imagination in Syberia: Part 1!
Find a missing inventor
Solve awesome puzzles
Search a mysterious estate!
Check out our Blog Walkthrough
Drawn: Trail of Shadows
Re-enter the enchanted world of Drawn in the highly anticipated third installment of the cinematic series. Set in the years before the events of The Painted Tower and Dark Flight, Drawn: Trail of Shadows takes players on a magical Adventure through the distant past! Become a part of the story by following clues scattered throughout paintings to save a boy with the power to create painted worlds in Drawn: Trail of Shadows!
Breathtaking Art
Adventurous Puzzles
For a more in-depth experience, check out the Collector's Edition!
Get the Strategy Guide!
Check out our Blog Walkthrough
iPhone/iPad/Android Games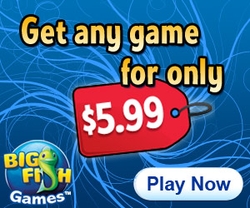 Recommended Sites