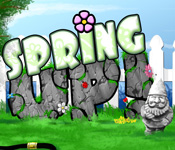 Spring Up! by

Frozax Games
The realistic physics of Spring Up! offer a unique experience with bouncing balls and bricks! Clear the 72 levels of 12 worlds by launching balls on color-matching elements. Try to use the blow of the fans, therebounds of the bumpers, the teleporters and various dynamic items to guide the balls. Once you hit the pegs, you still have to catch them using a user-controlled paddle to get more points. Many power-ups can help you by upgrading your paddle or increasing your score multiplier. Using credits won by making big plays and combos, you can buy around 50 upgradables items for your own customizable garden, such as trees, statues, fountains, flowers and much more! Upload your hiscores on Internet and compare your points and accuracy to other players.
Play
Spring Up!

on your favorite platform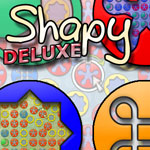 Shapy Deluxe by

Frozax Games
Shapy is an original and addictive puzzle game in which you need to rotate cells to match a given pattern. Click on the cells to compose the right shape! There are two different modes:
- Puzzle Mode where you have a limited number of moves to complete 90 levels divided in three difficulty settings (easy, medium and hard).
- Speed Mode where you have a limited time to complete generated levels where every game has different levels!
A level editor is also included.
New price: $1.99!
Play
Shapy Deluxe

on your favorite platform
Awakening: The Skyward Castle
Awakening: The Skyward Castle tells the tale of young Princess Sophia, who awakens from a magical century-long slumber into a land threatened by an ancient evil. Braving the dangers of an unfamiliar world, Princess Sophia has travelled far to discover the fate of her exiled kingdom. Having no magic of her own in a land built with living magic, she must overcome the many foes, perils and obstacles with her wit, skill and allies. Can Princess Sophia lift the curse that plagues her people? Find out in this epic conclusion! Complete the first Awakening series Colorful locations and characters Check out our Blog Walkthrough Get the Strategy Guide! For a more in-depth experience, check out the Collector's Edition!
High Scores
| | | |
| --- | --- | --- |
| 1. | marie | 970873 |
| 2. | Pol | 846248 |
| 3. | D@vid | 772828 |
| 4. | pear | 749497 |
| 5. | tom | 701849 |
| 6. | sv | 698905 |
| 7. | ajiger | 697959 |
| 8. | Ahmad | 675024 |
| 9. | kugellber | 659504 |
| 10. | Jeka | 653894 |
iPhone/iPad/Android Games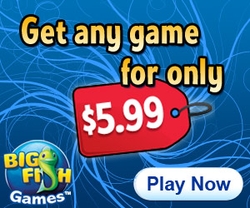 Recommended Sites