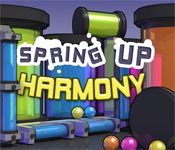 Spring Up Harmony by

Frozax Games
Use your aiming skills in this physics-based action-puzzler! Shoot balls in the 35 levels of Spring Up Harmony and catch the items falling out of the screen with your user-controlled bucket. Use the power-ups to deal with various gameplay elements such as fans, motors, switches and much more. Collect the fifteen rewards by performing outstanding shots and reaching milestones in the colorful world of Spring Up Harmony.
Compete against players all around the world with the online rankings available ingame and on the web. Watch your worldwide rank improve in real-time while you use the points multiplier to reach high scores!
Spring Up Harmony also allows you to play with your friends in exclusive multi-player levels.
Play
Spring Up Harmony

on your favorite platform
Castle: Never Judge a Book by Its Cover
The dynamic duo of Richard Castle and Kate Beckett are at it again and they need your help. You will be tasked with tracking down a killer responsible for killing innocent victims that are oddly connected. However, this isn't any ordinary killer. The crime scenes are unique and dynamic, and designed to lead you off course. With each crime, things begin to hit closer to home. Eventually an eerie pattern becomes clear during the investigation. Will you be able to find the killer before there is another victim? Spot items and places from the TV show! Fantastic interactive HOG scenes will keep you engaged Engaging storyline written with the creators of the show!
Sable Maze: Sullivan River
Every night you have the same nightmare. You see children wandering through a maze, crying for help. These sleepless nights are ruining your waking life. To stop them, you must return to Sullivan River Summer Camp to uncover what happened during that long-forgotten summer. Beware though, this camp isn't all that it seems. With every step, you can feel eyes watching you. Reveal the secret of the ancient labyrinth in this eerie Hidden Object Puzzle Adventure game. Hidden Objects! Adventurous puzzles! Get the Strategy Guide! Check out our Blog Walkthrough For a more in-depth experience, check out the Collector's Edition
High Scores
| | | |
| --- | --- | --- |
| 1. | Mary | 4441950 |
| 2. | Oufti | 4327850 |
| 3. | DasIdol | 4148050 |
| 4. | Baron | 4104900 |
| 5. | Jim | 3941550 |
| 6. | DijiDiji | 3938000 |
| 7. | Onite | 3783050 |
| 8. | Player | 3584650 |
| 9. | Remy | 3510450 |
| 10. | Eman | 3487950 |
iPhone/iPad/Android Games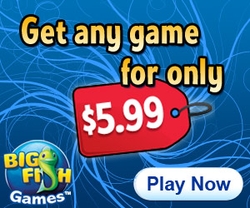 Recommended Sites