The new version of Thermometers Puzzles is here, with many improvements:
Now available on Windows Phone 8.1 and Windows Phone 10!
New power-user controls: slide after a long press to modify multiple cells at once.
The grid size is displayed in game, you won't ask you again: "what's the grid size already?"
Improved the numbers used when a line/coloumn is properly filled to remove confusion
Reduce frequency of zoom popup showing up
Limit added to the zoom in
Fix bug with level start animation and numbers visibility
Here is a screenshot of the new feature, note the circle with the number of cells currently being modified.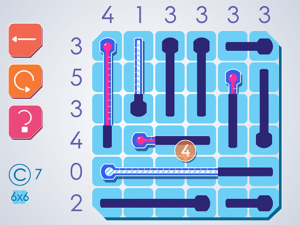 The update is available right now on Google Play, and soon on Amazon App Store and iTunes/iOS.