It's now confirmed and official. The next game released by Frozax Games will (hopefully) be a new version of Don't Feed the Trolls, for iOS and Android. However, it will not be a simple port of the Xbox 360 version.
Are are some of improvements :
Improved graphics (see screenshot below)
Intuitive touch gameplay (very cool to slap trolls on a touch screen!)
More levels
Many different game modes (more information coming later)
and other stuff that I'll reveal periodically
Here is a work-in-progress screenshot showing the new art running on the iPhone simulator (click to enlarge).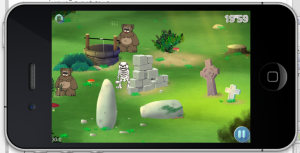 The new background is made by Vincent Guibert.
There is no precise release date, the game will be out when it's done. You can see however that it's going pretty well. I plan to make a beta because it's my first mobile game, and I want to test a few gameplay features.
Follow me on facebook or twitter to get more information about Don't Feed the Trolls and Frozax Games.